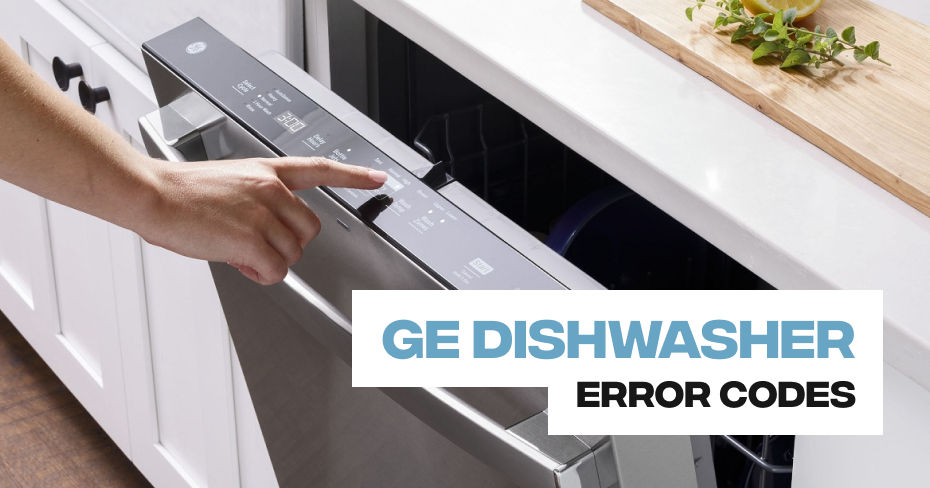 GE Dishwasher Error Codes
GE Dishwashers are renowned for their exceptional performance and innovative features. They are designed to make your dishwashing experience effortless and efficient. However, like any appliance, they may encounter issues, including error codes. In this blog, we will guide you through understanding these error codes and how to address them.
| | |
| --- | --- |
| Fault Code | Definition |
| C1 | The pump out during drain has exceeded 2 minutes. |
| C2 | The total pump out cycle exceeds 7 minutes. |
| C3 | The dishwasher will not drain. |
| C4 | Machine filled twice after a power failure. Float switch stuck or failed. Clogged drain or sump. |
| C5 | The pump out time is too short. |
| C6 | Water temperature is too low. |
| C7 | The dishwasher's water temperature sensor circuit has become inoperative. |
| C8 | This display indicates that the detergent cup is blocked from opening fully. |
| PF Code | Indicates that there has been a power failure to the dishwasher. |
| Cup Open | The detergent cup has not been closed. It's a reminder to add detergent and latch the cup closed. |
| FTD or F56 | Failure to drain. |
| 999 | Dishwasher will not start. |
| H2O | This indicates a low water situation. |
| PrS | Indicates the pressure sensor is sending an invalid signal to the control. Cannot start cycle or it will cancel. |
GE Dishwashers are a testament to quality and innovation in the world of home appliances. While error codes may pose challenges, our blog is here to guide you through understanding and resolving them. Appliance Repair Los Angeles is your dependable partner for all your appliance repair needs. Our dedicated team is just a phone call away at 323-792-1970, ready to assist you in keeping your GE Dishwasher and other appliances in top working condition. Stay tuned for valuable insights and solutions in our upcoming posts.
Schedule Appointment