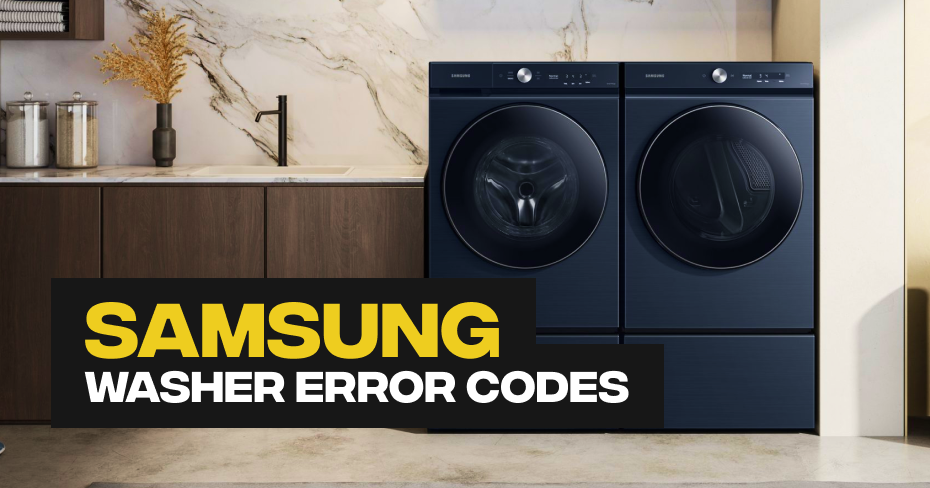 Samsung Washer Error Code 5E
Error code meaning: Water drainage issue. Water is not draining from appliance.
When your Samsung washing machine displays a 5E error code, it indicates drainage issues. This guide provides general troubleshooting steps that you can try on your own before considering the need to contact a technician for further assistance.
The steps below are for both top load and front load models, unless otherwise stated in the specific step itself.
Step 1: Level Your Washer Ensure your washer is level for optimal performance. You can use a level tool to check if it's properly balanced, and make adjustments if necessary.
Step 2: Inspect the Drain Hose Samsung recommends a standpipe of either 60-90cm or 90-100cm in height. Ensure your drain hose and the entire drainage system are free from clogs or kinks. Verify that the drain hose isn't frozen or obstructed, and that it's correctly positioned according to the type of connection you have.
Step 3: Clean the Pump Filter (Front Load Models Only) Periodically, clean the pump filter and drain it to enhance cleaning performance and prevent odors. A clogged pump filter can hinder proper drainage. Note that only select top load models have a pump filter, and they do not feature draining hose provisions. If you have a top load model with a pump filter concern, please request service for filter inspection and cleaning.
Step 4: Restart the Washer Turn the washer back on and initiate a cycle. During the test cycle, the washer should successfully drain at the beginning of the process.
If the Samsung Washer Error Code 5E remains after attempting these troubleshooting steps, it's advisable to contact Appliance Repair Los Angeles at 323-792-1970. Our experienced technicians can diagnose and address the drainage issue with your Samsung washer effectively. Proper drainage is essential for the efficient operation of your washing machine.
Schedule Appointment