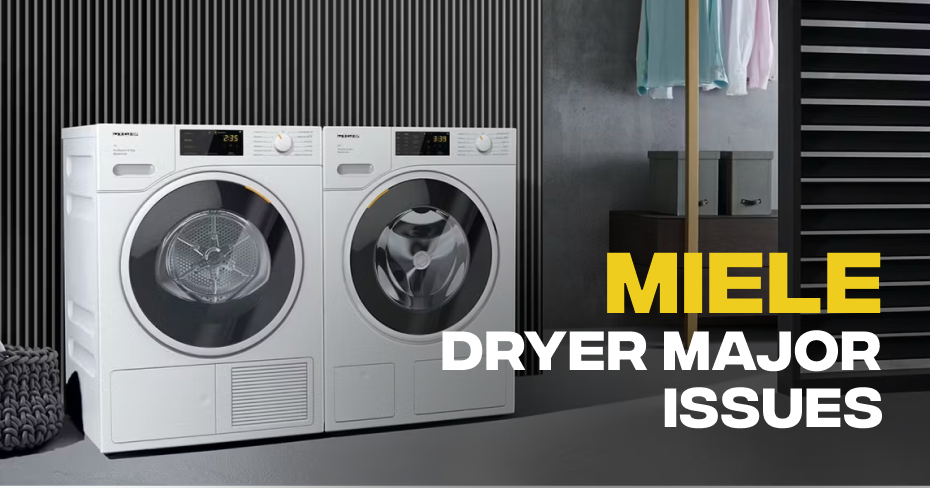 Miele Dryer Failure to Start
When you ask, "Why won't my Miele dryer start?" it can feel like every answer requires a call for a repair. But when your dryer won't start many common reasons actually have straightforward solutions that you can fix from home.
#1. No Power to the Dryer
When your Miele dryer won't turn on it may be more of a power issue than a dryer malfunction. If your dryer won't start we first suggest these assessments to make sure it's receiving power:
Make sure the dryer is properly plugged into a functioning outlet.
Assess the power cord for signs of damage, replacing it if necessary.
Check for blown fuses or tripped circuit breakers. Replace fuses or reposition breakers as needed.
Avoid using an extension cord to power the dryer. Most cords can't safely transmit the level of electricity a dryer requires.
#2. Dryer Door Isn't Fully Closed
As a safety precaution, your Miele dryer won't turn on if the door isn't closed all the way. Make sure the door is closed and the latch is engaged before attempting to start the dryer.
If the door is closed properly but there's a Miele dryer door latch problem it's possible the door switch is broken. This electronic component signals the dryer that the door is closed so it can begin a drying cycle. If the door doesn't make an audible click when it's closed and exhibits no power with multimeter testing, the switch requires replacement.
#3. Problem With Cycle Options
Your dryer may not start if it's not activated correctly. To start a Miele dryer it's necessary to press the START button firmly and hold it down for several seconds.
Some dryer models also have cycle options that keep it from starting immediately. If your Miele dryer won't start right away, check to see if the delayed start or child lock settings were enabled. Refer to your owner's manual for the right procedure to disable these settings.
#4. Defective Dryer Start Switch
Is your Miele dryer not starting even if it's been activated correctly and the right cycles are selected? In this case, it's possible that the start switch is defective. When the START button is pressed, the start switch signals the dryer to begin a drying cycle. If the dryer has no response when you press the start button then it's likely the switch requires replacement.
Replacing a start switch on older dryers can be a DIY fix. However, newer models have a digital touch screen that's best serviced by a professional.
#5. Dryer is Overheated
As an additional protective feature, your dryer has a thermal fuse that will blow if the dryer is in danger of overheating. Once the fuse has blown it can't be repaired and requires replacement for the dryer to operate.
Oftentimes a blown thermal fuse can indicate a clogged lint filter or dryer vent that leads to overheating. We suggest emptying your lint filter and checking the dryer vent for clogs if the thermal fuse is blown.
Schedule Appointment