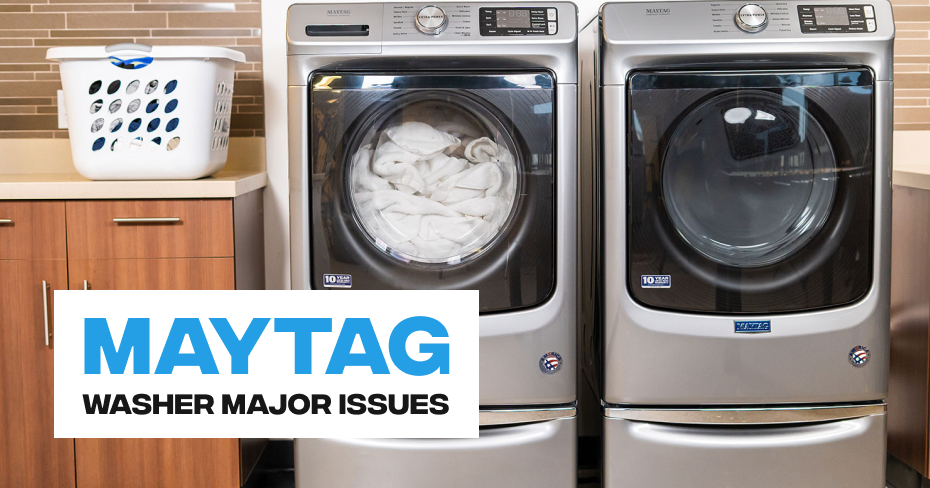 Maytag Washer Leaking Water
You trust your washing machine to do the work on laundry day so you don't have to, and it can be frustrating if you notice a leak while your washer is in use. Use this guide and your machine's product manual to learn how to troubleshoot a leaking washing machine to determine whether you can repair it on your own or with the help of a licensed technician.
6 COMMON WASHING MACHINE LEAKS AND HOW TO FIX THEM
There are several reasons a washing machine may start to leak. Some may be a quick fix and others may require a service call. Discover the possible causes of your leaky washing machine to get ideas on how to resolve the problem.
1. WASHER LEAKING FROM THE BOTTOM
A damaged water pump may be responsible for your washer leak if water is pooling from the bottom of the appliance. The water pump circulates water throughout the wash cycle and drains water out of the tub when the cycle is complete. Some machines have one pump that circulates water and another for draining, while others use the same pipe for both functions.
Other possible causes for a washer that leaks from the bottom are a faulty washer tub seal or a cracked or loose drain pipe. Your washing machine has two tubs. One is perforated and mobile so that water can come in and out during the cycle, while the other tub supports the inner tub and holds water during the wash cycle. If the outer tub is faulty, water may leak out of the machine. The drain pipe is located near the water pump and pushes dirty water out of the washtub. If this pipe becomes damaged, it can cause water to form a puddle around your machine.
HOW TO FIX A WASHING MACHINE LEAKING FROM THE BOTTOM DURING FILL
If your machine is leaking during the fill or agitation of the wash cycle, a damaged tub seal may be the culprit and will need to be replaced. Washers that leak because the tub has been overfilled may have a malfunctioning water level switch. To test whether the water level switch is the cause of the leak, run a small load test cycle to see if the washer is filling to the proper level. If this is the cause of the leak, professional help is recommended.
HOW TO FIX A WASHING MACHINE LEAKING FROM THE BOTTOM DURING SPIN CYCLE
An off-balance washing machine may cause a leak during the spin cycle. Check that your washer is level and adjust the leveling feet until the machine is balanced. Other possible causes of a leak during the spin cycle are a clogged water pump or drain hose or damaged seals between these two parts. If any of these are the cause of your leaking washer, it is recommended that you schedule a service call with a licensed technician.
If you have a top loading washing machine that sprays from the top during the spin cycle, the tub cover gasket may be malfunctioning. This gasket seals the outer tub and tub cover to keep water locked inside the machine during the cycle.
HOW TO FIX A WASHING MACHINE LEAKING FROM THE BOTTOM DURING DRAIN CYCLE
Washing machines that leak during the drain cycle may have damaged or loose drain hose clamps, a leaky hose or a broken drain pump. Repairing and replacing these parts is best left up to the professionals, so be sure to schedule a service with a licensed technician.
2. WASHING MACHINE HOSE LEAKING
One of the most common causes for a washer that leaks from the bottom is a leak in the fill and drain hoses. These hoses can become blocked, kinked, damaged or disconnected, resulting in a leak while your washing machine is in use.
HOW TO FIX A LEAKING WASHING MACHINE HOSE
The fill and drain hoses need to be securely attached to your washing machine to prevent leaks. Check each hose to ensure that they are properly connected to the machine and make sure that the washers on the inlet hoses are firmly in place. If any parts are loose, tighten them.
Inspect the drain hose for any kinks or clogs, as any blockages can create a water backup that results in standing water. Finally, check for any signs of wear in your washing machine hoses. If you discover any cracks or holes, the hose will need to be replaced.
3. WATER DRIPPING INTO WASHING MACHINE
If water is dripping into your washing machine when it is turned off, there may be a problem with the washer inlet valve. This valve allows water to flow into the tub during a wash cycle.
HOW TO STOP WATER FROM DRIPPING INTO YOUR WASHING MACHINE
To determine if the washer inlet valve is causing water to drip into your machine, unplug the appliance and pull it away from the wall. Locate the inlet valve on the back of the washer and inspect it for leaks. If you see cracks or holes, schedule a service with a professional for a repair.
4. WATER UNDER WASHING MACHINE DRUM
There are a few reasons why water may be collecting under the wash drum, like a kinked or clogged drain hose or regularly overpacking your machine with laundry. These can cause obstructions and water will not be able to properly drain from the washer drum.
HOW TO PREVENT WATER FROM GETTING UNDER A WASHER DRUM
You can prevent this problem by regularly checking your washing machine hoses for kinks, clogs or signs of wear and scheduling a service call with a professional for a repair if necessary. Another way to prevent trapped water under the wash drum is to avoid overpacking your machine when loading your laundry. Top load washers may have inefficient spin cycles when the wash drum is overfilled.
5. WASHING MACHINE DRIPPING FROM LID
If you notice your washing machine is dripping from the lid or door, the door or seals may be damaged. Over time, washer door seals can become ripped or torn, allowing water to leak out during the wash cycle.
HOW TO FIX A DRIPPING WASHING MACHINE LID
First, inspect the washing machine door or lid for any cracks or holes. If the door is the cause of the leak, it will need to be replaced by a professional. If the door doesn't appear to be damaged, check the gasket seal. If you notice any rips or tears in the seal, it will need to be replaced.
6. WASHING MACHINE LEAKING OIL
If oil is leaking from your washing machine, there is likely a problem with the machine's transmission. Most oil leaks are noticeable and can be found on the floor around your washer.
HOW TO FIX A WASHING MACHINE LEAKING OIL
Unfortunately, this is not a problem with a quick fix. Washing machines that are leaking oil need to be inspected and repaired by a licensed professional.
Schedule Appointment