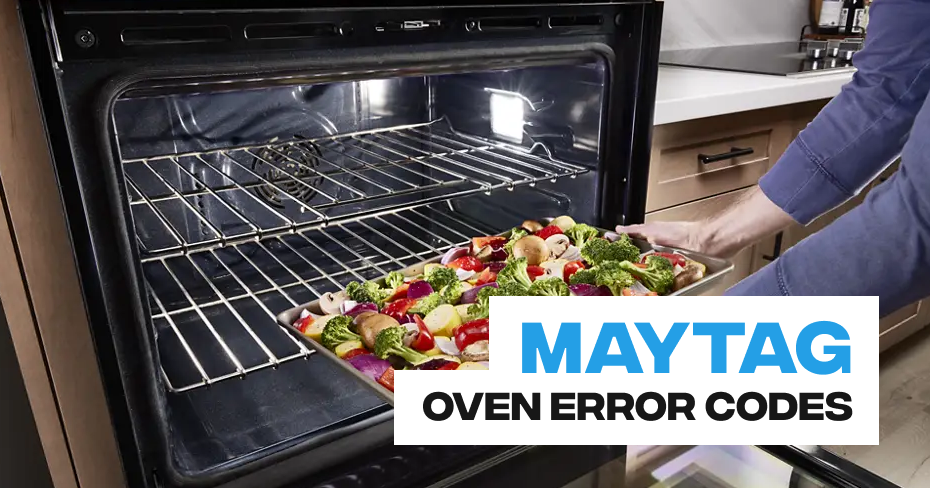 Maytag Oven Error Code F9
One of the common challenges you might encounter with your Maytag oven is the dreaded Error Code F9, signaling a problem with the door latch. This code is a red flag that the oven door latch is not functioning correctly, potentially disrupting your cooking plans. Let's take a closer look at what Maytag Oven Error Code F9 entails:
Causes of Maytag Oven Error Code F9: Door Latch Malfunction
Error Code F9 can be triggered by various issues related to the door latch. Here's a breakdown of potential causes:
Blockage in the Latch: Sometimes, debris or obstructions can hinder the proper functioning of the door latch.
Wiring or Switch Issues: The error may stem from problems in the wiring or switches associated with both the upper and lower latches.
Latch Components: The upper latch, lower latch, or both might be experiencing malfunctions.
Specific Details of Maytag Oven Error Code F9 Subcodes:
Maytag provides more granular information through subcodes within F9, helping to pinpoint the exact location of the fault. Here's a quick reference to these subcodes:
F9:-1 – Upper latch lock
F9:-2 – Latch unlock upper
F9:-3 – Latch lock both upper
F9:-4 – Latch lock lower
F9:-5 – Latch unlock lower
F9:-6 – Latch unlock, both lower
Each subcode corresponds to a specific aspect of the door latch system, aiding technicians in identifying and addressing the problem efficiently.
Safety Precautions and Next Steps:
If you encounter Maytag Oven Error Code F9, it is crucial not to use the oven until the door latch issue is resolved. Continuing to operate the oven with a faulty latch can pose safety risks.
How to Proceed:
Inspect for Blockages: Check the latch area for any debris or obstructions. Clearing these may resolve the issue.
Professional Assistance: If the problem persists, it's advisable to seek professional help. Contact Appliance Repair Los Angeles at 323-792-1970 for expert guidance and efficient resolution of Maytag Oven Error Code F9.
Schedule Appointment