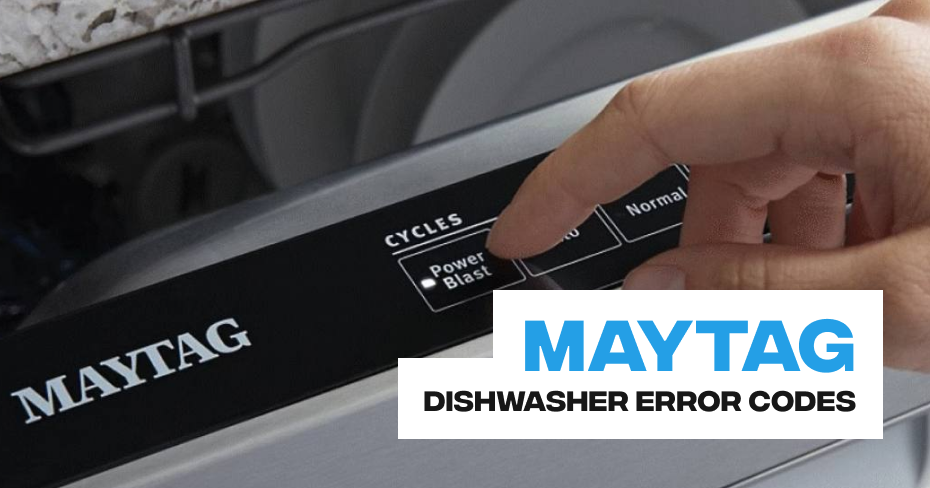 Maytag Dishwasher Error Code 5-1 or F5E1
Encountering Error Code 5-1 or F5E1 on your Maytag dishwasher signals a door switch failure, a pivotal component for seamless operation. This code manifests when the dishwasher's door isn't closed within 4 seconds of pressing the Start/Resume button or when the door latch assembly is compromised.
When initiating a cycle, it's crucial to ensure the door is securely closed within the specified timeframe. Failure to do so triggers this error. Additionally, a broken door latch assembly contributes to the issue.
Troubleshooting Steps:
Prompt Door Closure:

Begin by closing the dishwasher door within 4 seconds after pressing Start/Resume. Ensure a swift and secure closure to reset the error.

Assessment of Door Switch Wire Harness:

Unplug the dishwasher to disconnect electrical power, prioritizing safety.
Disassemble the dishwasher door to access the door switch wire harness.
Thoroughly inspect the wire harness for any loose connections or damage.

Wire Harness Maintenance:

If loose wires are identified, carefully reconnect them to the door switch. Ensure a snug fit to guarantee a reliable connection.
If the wire harness exhibits damage, replacement is recommended to restore optimal functionality.

Door Latch Assembly Inspection:

Examine the door latch assembly for any signs of wear, breakage, or misalignment.
If the latch assembly is faulty, consider replacing it to address the root cause of the door switch failure.
If troubleshooting steps do not resolve the issue, seeking the expertise of a certified technician is advised. Unplug the dishwasher and consult a professional to conduct a comprehensive assessment, ensuring that the door switch and latch assembly are in optimal working condition.
Don't let Error Code 5-1 or F5E1 disrupt your dishwashing routine. Swift and meticulous attention to the door switch and latch assembly can restore your Maytag dishwasher to its efficient functionality.
Schedule Appointment