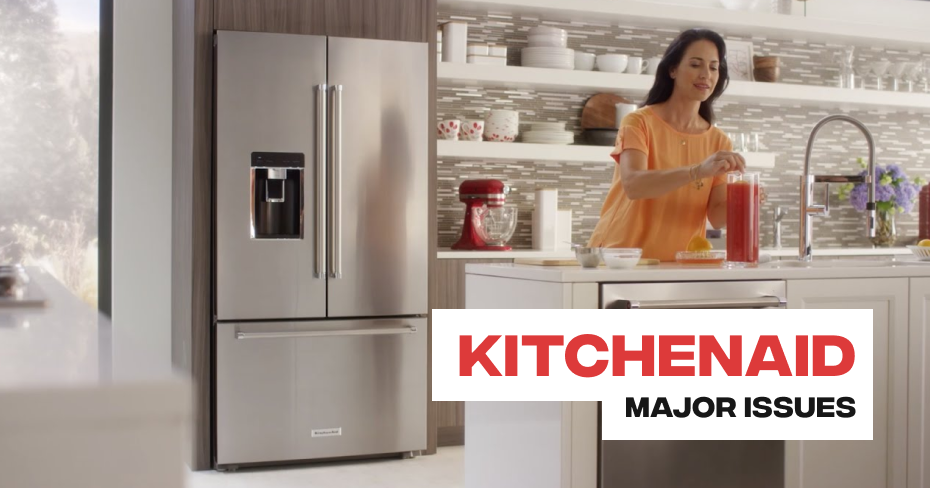 Kitchenaid Refrigerator Door Seal Issues
Why is it important to ensure the doors are sealing correctly?
A refrigerator that is not sealing properly may lead to the following:
Frost build-up
Temperature fluctuation
Door switch is unable to make contact correctly
Are food packages or beverage bottles blocking the door?
Rearrange containers so that they fit more tightly and take up less space.
Do the door gasket(s) seem dirty or sticky?
The gasket(s) needs to be cleaned regularly in order for the doors to open and close properly. Dirt and other particles can build up on the gasket surface and can cause resistance. Check the door gasket(s) regularly to ensure it is clean and free of food particles.
Is the refrigerator level?
It is important to ensure the refrigerator is level before aligning the doors. A properly leveled refrigerator will help with the overall proper operation of the refrigerator.  Please refer to your Owner's Manual or Installation Instructions for specific leveling information for your refrigerator.
Tips for leveling the refrigerator:
Use a level to make sure the refrigerator is level from side to side and front to back.
Check to make sure the floor under the refrigerator is also level, if the floor is not level shims may need to be used.
Are the doors adjusted properly?
Once the refrigerator is properly level, front to back and side to side, the doors can be adjusted.  Instructions on adjusting the doors on your refrigerator can be found in the Owner's Manual or Installation Instructions. Doors that are properly aligned will help the doors properly seal and close.
Is the mullion or vertical hinged seal folded outward?
On French door models, there is a vertically-hinged seal on the left refrigerator door.  The doors can be opened and closed either separately or together.  When the left-side door is opened, the hinged seal automatically folds inward so that it is out of the way. When both doors are closed, the hinged seal automatically forms a seal between the two doors.  If the seal is folded outward when the door is open, make sure to fold it inward by hand before the door is closed.  If the seal remains in the outward position the doors will not close or seal properly.
Are there any food items being stored in the doors?
The refrigerator doors are designed to be slightly different heights when the refrigerator is empty, in order to account for the weight of food that will be placed on the doors. Adding food to the doors will help properly align the doors.
Schedule Appointment