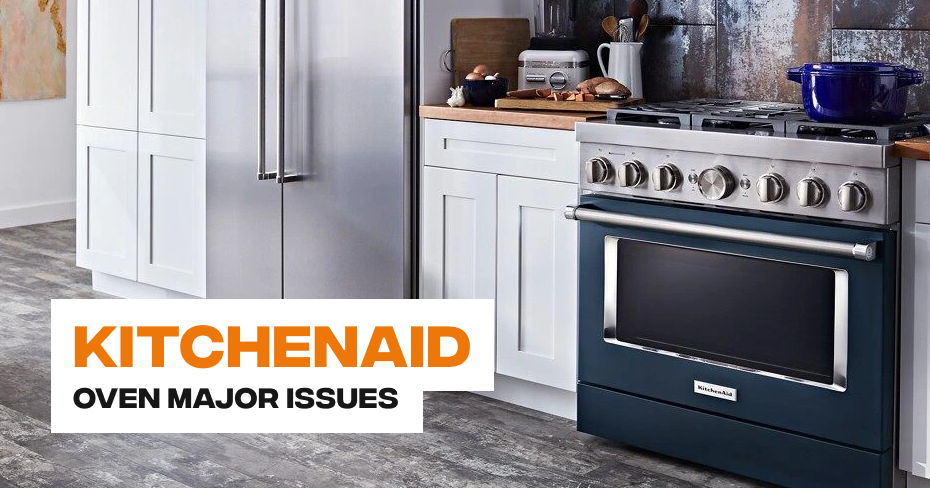 Kitchenaid Oven Uneven Heating
Your oven opens up endless culinary possibilities in your kitchen, which is why it can be frustrating if you notice a problem with its heat distribution. Use this guide to explore possible causes and fixes for your oven so you can get back to creating new recipes.
HOW DO YOU CHECK IF AN OVEN IS NOT COOKING EVENLY?
Before scheduling a repair for your oven, you may want to check whether or not the problem is due to poor heat distribution. To check for hot or cold spots in your oven, pay attention to how your oven cooks food and make adjustments such as rotating dishes or adjusting the height of your racks.
You can also look to see if the heating elements are completely glowing red hot or if one may not be heating properly.
WHY IS MY OVEN NOT BAKING PROPERLY?
If you notice an issue with your oven's heat distribution while baking, consider the possible causes below so you can get back to making.
1. BROKEN HEATING ELEMENT
If your oven is not distributing heat properly, one of the first places to check is the heating element. Examine your exposed bake and broil elements for visible signs of wear, like breaks or blisters. If your oven has a hidden element, you may need to schedule service. If your oven's heating issue is due to one of these heating elements, you may need to schedule service with a licensed professional to repair or replace them.
2. AJAR OVEN DOOR
Opening the oven door while your recipes are baking or roasting can affect the internal temperature of your oven, which may lead to uneven results. Avoid opening your oven door while it is preheating or baking to prevent extended bake times, overcooking or undercooking.
3. OVEN ISN'T CALIBRATED PROPERLY
An improperly calibrated oven can cause incorrect temperature readings, leading to poor baking results. If your oven is not baking evenly, check to see if it has been calibrated properly and recalibrate if necessary.
4. BROKEN TEMPERATURE SENSOR
The temperature sensor is a thin tube that monitors the oven cavity and increases or decreases the heat to maintain the right temperature. It is usually metal, and often  located in the top right corner of the cavity. If you can not locate the temperature sensor it may be beneficial to contact a professional. Small changes in the positioning of the sensor can affect your oven's heat distribution. Moving the sensor back to its proper position at a 90° angle may resolve the issue. If it doesn't, you may need to replace the sensor or take a look at your oven's calibration.
5. OVERCROWDED OVEN RACKS
Your oven needs to be able to circulate hot air throughout the interior to cook your food properly. When you overcrowd the baking racks, the hot air can't access the total surface area of your food. Always allow at least two inches of space around your baking pans for proper results.
6. RESTRICTED AIRFLOW
As with overcrowded oven racks, covering baking racks or the bottom of your oven with tin foil, or any other covering, can restrict proper airflow inside your oven and lead to poor heat distribution. Keep your oven racks and the bottom of your oven clear of obstructions to promote proper airflow while baking.
HOW DO YOU FIX AN OVEN THAT'S NOT BAKING PROPERLY?
The right fix for your oven's heating issue depends on the cause. Some causes related to user error, like overcrowded racks and restricted airflow, can be resolved easily. If your oven needs repairing, you may want to schedule service with a licensed technician.
WHY SHOULD YOU NOT OPEN THE OVEN DOOR WHEN BAKING?
Ovens bake, roast and broil foods by heating up the interior cavity using either gas flames or an electric heating element. If you open the oven door during the cooking process, that heat can leak out and result in decreased oven temperatures and longer cook times.
However, you can still check in on your recipes while they cook without opening the oven door. Simply turn on the oven's interior light and peer through the window to monitor the baking process.
Schedule Appointment