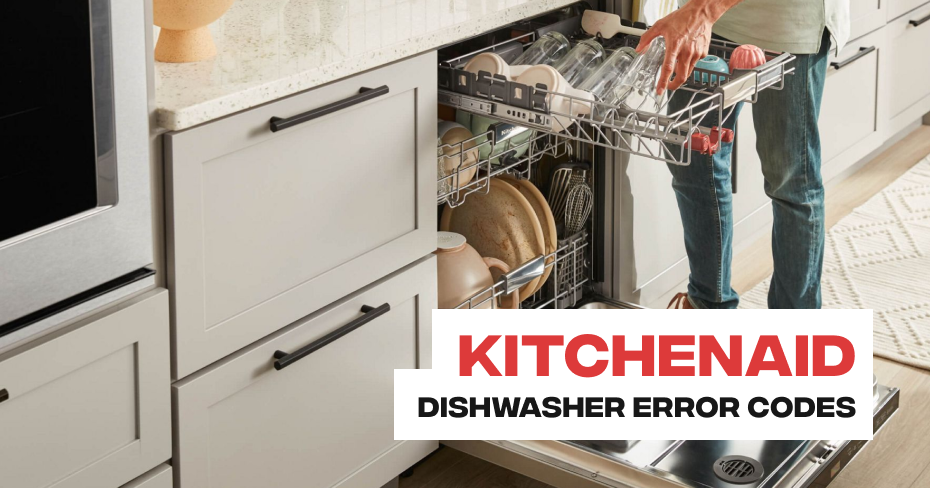 Kitchenaid Dishwasher Error Code 9-2 or F9E2
If your KitchenAid dishwasher displays Error Code 9-2 or F9E2, it signifies a problem with the diverter motor. Specifically, the diverter motor, responsible for directing water flow during the wash cycle, is stuck in the "on" position. This issue is often associated with a defective diverter relay on the electronic control board.
Stuck Diverter Motor: The diverter motor, which controls the water flow between the upper and lower spray arms, is stuck in the activated position.
Defective Diverter Relay: The electronic control board's diverter relay, responsible for regulating the diverter motor, is malfunctioning.
Troubleshooting Steps:
Power Off and On:

Turn off the dishwasher and unplug it from the electrical outlet.
Wait for a few minutes before plugging it back in and turning it on.
Retry the dishwasher to see if the error persists.

Inspect for Obstructions:

Examine the spray arms and surrounding areas for any debris or foreign objects that may be obstructing the movement of the diverter motor.

Check Diverter Motor:

If accessible, inspect the diverter motor for any physical obstructions or damage. Manually attempt to move the motor to ensure it is not mechanically stuck.
Replacement of Electronic Control Board:
Since the diverter relay issue is linked to the electronic control board, replacing the entire board is recommended.
Unplug the dishwasher to disconnect electrical power before replacing the electronic control board.
Consult the dishwasher's manual or seek professional help to ensure the correct replacement part is used.
Addressing Error Code 9-2 or F9E2 promptly is crucial to ensure the smooth functioning of your KitchenAid dishwasher.
Schedule Appointment