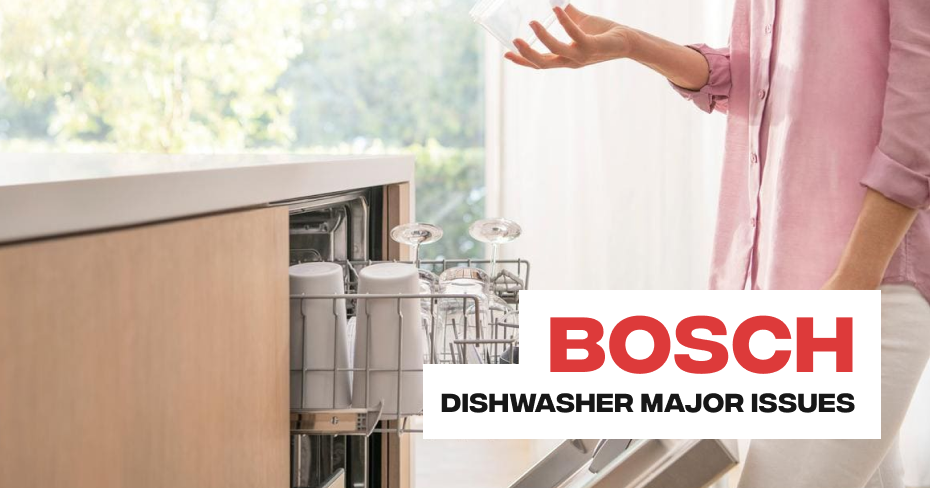 Bosch Dishwasher Drain Pump Failure
When draining water from your Bosch dishwasher after cleaning, you may realise that it is taking longer than usual to drain. Don't make light of it. The most probable cause of this is a blocked drain pump. The blockage could be food particles or debris trapped in the drain pump. If unsure, you can get a Bosch dishwasher repair expert to get rid of the debris or particles. In most instances, the problem can be easily solved by giving the filter a good clean.
Below are some key considerations when cleaning the drain pump:
Shut down the power
First off, you need to turn off the power. This is the easiest part, and hence you should not forget it. Once done, you can then open your dishwasher and remove the lower rack.
Wash the filter tube
Next to the wash arm, you will find the filter tube top. Reach out to it if you can. It is usually made of stainless steel. This top is usually rotatable. Move it gently to the anticlockwise direction at an angle of 90°. This way, you are now able to reach the filter tube. Wash the tube thoroughly with clean water until you are sure there is no more debris left.
Manually dry the sump
When done, you can now move to another area that could be holding water called the sump. You will find the sump at the bottom of the Bosch dishwasher. It is white and secured by clips. Looking at it carefully, you may see some water here. Eliminate as much as humanly possible, until you cannot scoop it anymore. At this point, get an absorbent clothing and remove the rest of the remaining water till the sump is dry.
Clean the impeller blades
The next place to look for debris would be within the impeller blades. To reach them, you may need a screwdriver in hand. On the left side of the sump, you will find the draining pump. You should remove the retaining screw using the screwdriver. When successfully opened, you can then see the impeller blades. You will find lots of debris and particles being held at this part. Remove all these particles and make sure the impeller blades are completely clean. Before you close it back by returning the screws, you should make sure you have gotten rid of all debris.
This bit of unrevealing the impeller blades may sound a bit challenging mainly because you need a tool to have it done. However, this is a straightforward task that you can comfortably handle at the comfort of your home.
What's next?
It is, however, worth noting that for your Bosch dishwasher to work efficiently, you need to make sure these parts are screwed back properly in their correct positions. If this is your first time and you have absolutely no idea on how to go about it, worry not! There is always the first time to learn new things. One of the sources to learn how to check a blocked drain pump is via online demonstrations.
In case you check online on the best way to improve drainage for Bosch dishwashers, you will find very informative demos that you can follow step-by-step. The good thing about online videos is that you can pause and play at your pace. This enables you to try it out until you get it right. Besides, when you try it out the first time, you will realise that it will be straightforward the next time you want to check your drain pump.
However, it is critical to consider the source of your tutorial. There are several sources of information online, and that does not mean all methods indicated are correct. In fact, it is good to have your information from credible sources. For instance, you may check out in reputable repair companies especially those that are well conversant with Bosch dishwasher models. This is because there are different companies manufacturing dishwashers and some of the parts could be positioned differently from that of Bosch models.
Schedule Appointment