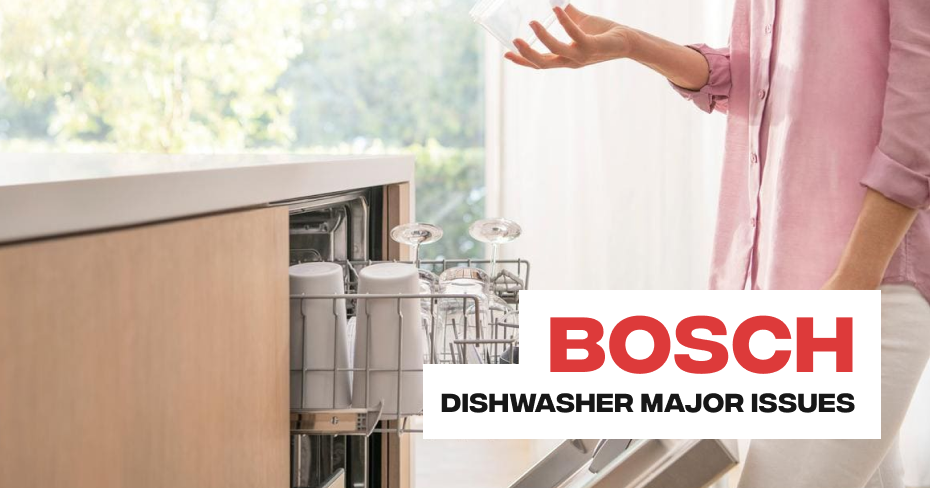 Bosch Dishwasher Door Seal Leaks
If your Bosch dishwasher is experiencing door seal leaks, it's important to address this issue promptly to prevent water damage to your kitchen. Here are steps to help you diagnose and potentially resolve door seal leaks:
Inspect the Door Gasket: The door gasket is the rubber seal that runs along the inside of the dishwasher door. Carefully examine the gasket for any visible signs of wear, damage, or debris. Even small tears or foreign objects can cause leaks.
Clean the Gasket: Clean the door gasket with a soft cloth or sponge to remove any dirt or residue. Ensure that it's clean and free from debris that might prevent it from sealing properly.
Check the Gasket Alignment: Ensure that the gasket is properly aligned along the door's edges. It should be snugly fit without any folds or kinks that could compromise the seal.
Check for Damage: Look for any visible damage to the gasket, such as cracks, tears, or deformities. Even minor damage can lead to leaks.
Adjust Door Latch: Ensure that the door latch or locking mechanism is working correctly and securely holds the door closed. If it's loose or not engaging properly, it can result in leaks.
Inspect the Door: Examine the dishwasher door itself for any damage, dents, or warping that could affect the door's ability to close tightly.
Run a Test Cycle: After performing the above checks, run a test cycle with the dishwasher, making sure that it is empty. Pay close attention to any signs of leaking during the cycle.
Replace the Gasket: If the door gasket is visibly damaged or shows signs of wear, it may need to be replaced. Consult your dishwasher's user manual or Bosch's official website for the correct replacement part.
Professional Help: If you've tried the above steps and the door seal continues to leak, or if you're uncomfortable replacing the gasket yourself, it's advisable to contact a professional appliance technician. They can diagnose the issue more thoroughly and ensure that the replacement gasket is installed correctly.
Remember to always prioritize safety when working with appliances. If you're unsure about any of the steps or if the problem persists after attempting these solutions, it's best to seek professional assistance to resolve Bosch dishwasher door seal leaks effectively.
Schedule Appointment