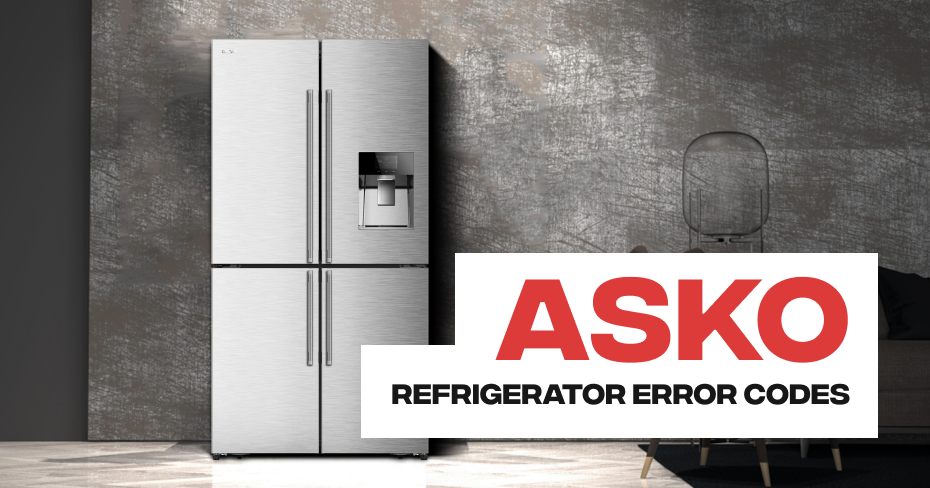 Asko Refrigerator Error Codes
Asko has been a trusted name in the appliance industry, providing consumers with refrigerators that blend functionality and style seamlessly. With advanced features and a commitment to durability, Asko has become a go-to choice for households seeking premium refrigeration solutions.
At times, even the most reliable appliances encounter issues, and Asko refrigerators are no exception. Understanding the error codes that may appear on your Asko refrigerator is crucial for timely and effective troubleshooting. That's where our expertise comes in.
In this blog, we aim to guide you through the maze of Asko Refrigerator Error Codes, offering insights into the potential issues you might face. From temperature fluctuations to sensor malfunctions, our comprehensive breakdown of error codes will empower you to understand and resolve problems promptly.
Encountering an error code can be frustrating, but you don't have to face it alone. Our team of skilled technicians at Appliance Repair Los Angeles specializes in Asko appliance repair, including tackling those perplexing error codes. We pride ourselves on prompt, efficient, and reliable service, ensuring your Asko refrigerator is back to optimal performance in no time.
| Error Code | Description |
| --- | --- |
| ER1 | Temperature Sensor Failure. The refrigerator's internal temperature sensor is malfunctioning       Learn More |
| ER2 | Defrost System Error. The defrost system is not working correctly, leading to frost buildup       Learn More |
| ER3 | Door Ajar. The refrigerator detects that the door is not properly closed       Learn More |
| ER4 | Compressor Failure. The compressor, responsible for cooling, is not functioning as it should       Learn More |
| ER5 | Ice Maker Malfunction. Issues with the ice maker's operation and ice production       Learn More |
| ER6 | Fan Motor Problem. The fan responsible for circulating air within the refrigerator is not working       Learn More |
| ER7 | Power Supply Issue. The refrigerator is not receiving proper power supply. Check power source       Learn More |
| ER8 | Control Board Error. Malfunction in the electronic control board       Learn More |
| ER9 | Condenser Coils Issue. The coils responsible for releasing heat from the refrigerator are not functioning correctly       Learn More |
For personalized assistance with Asko Refrigerator Error Codes, reach out to our experts at Appliance Repair Los Angeles. Call us at 323-792-1970 to schedule a service appointment. Our dedicated team is ready to address your concerns and provide effective solutions, making appliance troubles a thing of the past.
Schedule Appointment